Where did the character Mrs. Zimmerman come from?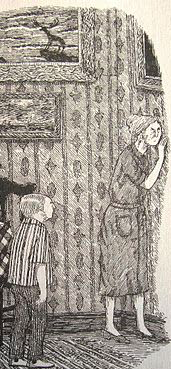 John Bellairs was influenced by a real-life Mrs. Zimmerman so much that he decided to create an unforgettable character about her for his Lewis Barnavelt series. We all know Mrs. Zimmerman in the book had no family – her husband has died and she didn't have any children, but the real Mrs. Zimmerman that Bellairs met ten years before the publishing of his book? She "was a widow with a married daughter and two grandchildren." Well, so what? If there are differences between the two, is that normal, as Bellairs perhaps just lifted her name from his memory and used her for inspiration? No, there are a few tie-ins. For one, Mrs. Mary Zimmerman was a highly creative type who has published plays: "The D.P., The Chocolate Milk Cow and Tradem Squaw – all of which have been widely produced." Well, that's nice, but is the fictional Mrs. Zimmerman a playwright? No, but she is rather creative. Is that it? Well, here's the hook, line, and sinker: Mrs. Mary Zimmerman was a fetishist ( a person who has an excessive and irrational devotion or commitment to a particular thing) with the color purple! Inside her house "there were purple perfume bottles, purple nosegays, purple soap dishes with purple soap, and purple bathrobes. There were purple window curtains in the purple bathroom. The other bedrooms were all in purple. Finally coming down to breakfast Sunday morning, we realized that everything in the house was purple."
So what can we conclude about Mister John Bellairs's creative imagination, with regard to Mrs. Mary Zimmerman? Well, we can be sure that he was a highly-impressionable person, and that, at the least, he had a wonderful time with the old lady when he was visiting Milwaukee for a wedding.
How did John Bellairs partly transform his inspiration into the Mrs. Zimmerman we know of in the Barnavelt series? Well, we don't know for sure, but he might have just started off his inspiration and then tweaked a few non-exciting things about her into more interesting things. Why was Bellairs so inspired by Mary H. Zimmerman? This we do not know, but I guess he must have been really surprised when he saw actually how obsessed she was with purple things. "Besides both being kind elderly widows with a certain flair for individuality, both are steadfast in their dedication to the color purple."