Exploring Forms of Magic in John Bellairs
John Bellairs was a very famous author who wrote amazing books. He lived from 1938-1991, and was born in Marshall, Michigan. He was the first of three children. He went to public school most of his life, developing a passion for English literature. Besides writing, he enjoyed reading ghost stories, and novels by the well-known 19th century fiction masters Charles Dickens who wrote Oliver Twist and Henry James. He also enjoyed work from 20th century historian C.V. Wedgwood, because of her vibrant and realistic depictions of famous battles (she would spend time in all sorts of weather at the battlefields themselves to get a full experience of it prior to writing) and Will Durant, who brought together many varying sources (some esoteric) in his approach to writing history.  C.V. Wedgwood, and Will Durant had the same interests as John Bellairs. In fact, most of his inspiration came from them, including the books he wrote.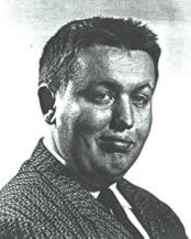 Bellairs went to the University of Chicago and University of Notre Dame to earn his master's degree. He was named to Notre Dame's College Bowl team, and appeared on the G.E. Quiz Bowl, nationally televised, which was hosted by Allen Ludden, Betty White's husband. He surprised everyone by reciting lines from Chaucer's prologue to The Canterbury Tales, in fluent Middle English. He graduated Summa Cum Laude, proving a very hard-working academic.  He was not only a student at the University of Notre Dame (a Catholic research university) and University of Chicago, he was also a teacher at Merrimack College (a Boston Catholic, Augustinian private college), Emmanuel College (a Catholic women's college), and Shimer College (a Great Books college). The University of Chicago (a top-ten private research university) and the University of Notre Dame are two amazing schools; fifty-seven years ago, still as great as they are today. Today, the University of Chicago is ranked number three, while the University of Notre Dame is number fifteen.
He developed his true passion for English while at university, and after teaching at the colleges, he began writing books. His first book was St. Fidgeta and Other Parodies, which was written in 1966. The original St. Fidgeta article appeared in The Critic, a Chicago-based Catholic magazine.
After writing St. Fidgeta and Other Parodies, he continued to write and wrote more than a dozen award-winning novels. Bellairs began to find his style in The Pedant and the Shuffly: this book not only features a wide variety of magic, it features some of John Bellairs' unexpected humor and a medieval tone. For a while, this book was hard to find and went out of print. Fortunately, it's back on the shelves today. The Face in the Frost, another one of Bellairs' top novels, was a breakout hit. Lin Carter, a high fantasy critic, who died only a few years before Bellairs, called it one of the best fantasy novels since The Lord of the Rings. Besides that, it was also described as an "authentic fantasy by a writer who knows what wizardry is all about" (Ursula K. Le Guin). Famous author John Clute calls it a "unique classic" in The Encyclopedia of Fantasy as well. This book was a combination of humor and darker elements, which is what made it such a popular and well-known book.  Two of his novels were translated into at least five different languages. Additionally, he was nominated for Edgar Allan Poe Award for Best Juvenile Division. His two books, The House with a Clock in its Walls and The Treasure of Alpheus Winterborn, were made into TV shows. Next to writing, he enjoyed bad poems, especially nonsense, doggerel, and light verse. He also enjoyed architecture.
He wrote novels which included the Lewis Barnavelt Series, based on magic, featuring Lewis Barnavelt, his Uncle Jonathan, Mrs. Zimmermann, and Rose Rita, comprising twelve books. In addition to the Barnavelt series, he wrote a Johnny Dixon series consisting of 12 books, and an Anthony Monday series consisting of four.
In 1991, he died of cardiovascular disease, tragically young, at age 54. Some say that his addiction to alcohol could've been the reason why he died at such a young age. John Bellairs left two unfinished books at his death, and Brad Strickland finished them: The Ghost in the Mirror and The Doom of the Haunted Opera. In other words, after Bellairs passed away, Strickland continued to come up with entire new novels, completing the series himself. It seems that Strickland's career was boosted by his association and collaboration with Bellairs. Though Bellairs has seemed to drift into obscurity in the last 20 years, Hollywood has recently made the decision to create a movie based on his book The House with a Clock in its Walls, starring Jack Black.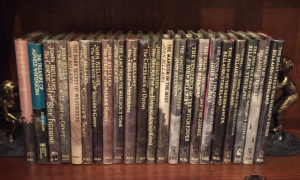 John Bellairs wrote about good and bad magic, including necromancy, which is a type of magic relating to bringing the dead back to life. He wrote about benevolent, or harmless magic, like time travel, or conjuring up the past. Both types of magic took place in the first book of the Lewis Barnavelt series, The House with the Clock in its Walls. The book begins with Lewis traveling to New Zebedee as his parents have recently died in an auto crash, which is what brought him to his crazy warlock Uncle Jonathan, and an absolutely mysteriously magical household. The Izards previously owned the house. Both Mr. and Mrs. Izard, whom you shall learn about on Halloween night, are dead. When Lewis enters the house for the first time with his cardboard suitcase in hand, he sees an elderly woman with her ear pressed against the wall, listening to an eerie ticking.
The Figure in the Shadows, the following book, is about amulet magic, which allows the wielder the ability to control someone completely, using an enchanted object. The Letter, the Witch and the Ring, is based on ring magic, similar to amulet magic, but more powerful because the wielder of the ring can change her subjects into animals. This book features Rose Rita as the hero, a no-nonsense tomboy who cracks through a binding and malignant spell, which endangers the life of her elderly friend.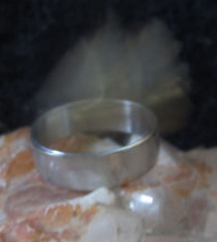 In the first book, on Halloween night, Lewis was glum because his buddy Tarby had been avoiding him; Tarby'd been shocked by Uncle Jonathan's powers a week or two prior and was avoiding Lewis, so instead of trick-or-treating, during the evening, he chose to read his favorite author, the American travel writer, John L. Stoddard. Later, Lewis closed the book and went to find Uncle Jonathan at Mrs. Zimmermann's house, and saw him lighting up the fire. Mrs. Zimmermann is a witch who lives next door. However, she has more magical powers than Uncle Jonathan himself, who dabbles mostly in enchanting household objects (and he has a mansion to play in), causing chessmen to speak in Olde English, and the stained glass windows to show scenic views. In fact, the previous week, he had eclipsed the moon in the backyard, but Tarby had been uncomfortable. So, Uncle Jonathan wanted to have a special display of good magic for his nephew; he got up and walked over to the fireplace, and the electric candles began to flicker, and so did the bulb in the chandelier. Immediately, the taste and smell of salt was tickling Lewis' nostrils, and his tongue. Before he knew it, he was standing in Scotland. "'We are standing on John O'Groats,' said Jonathan. 'It is the northernmost point in Scotland. The year is 1588, and out there is the Armada, or what is left of it. You'll need the telescope to see them'"(73). The sight was amazing, and it was a real-life turn-back-in-time moment for Lewis and Uncle Jonathan, and Lewis was able to experience an event buried in the past.
Despite the wonderful learning experiences provided to him by his benign yet hairy uncle, he wasn't satisfied. Later that Halloween night, Lewis met Tarby to perform an act of… necromancy. He had been reading one of Uncle Jonathan's books, which inspired him to show off knowledge to Tarby, to befriend him again. Dreading going to the cemetery, he still yanked himself out of bed and escaped the house to perform the evil spell. That night was very strange – unexpected for both. "He drew a big circle and then a smaller one within it… now he started to chant in a high-pitched nervous voice" (85-87). That's how the act of necromancy was created. Lewis continued the process of waking up the dead. It was dark, and the tomb became blacker than the night, and there was an oozing space between the doors, and out came Mrs. Izard. Lewis ended up running for his life and scratching himself.
Strange things happen over the next few weeks, and the clock keeps ticking in the walls. At one point, a car-chase: with a pair of silvery eyeglasses shining through the windshield, an unknown person tails them at high speeds, dangerously advancing on their older and much larger car. Mrs. Zimmermann, Uncle Jonathan and Lewis might as well be running from a mobster the way they career through the county roads. "The burning white holes danced in the mirror as before… dead roadside stalks bent in its wind, and overhanging branches whipped along the metal roof" (99).
Lewis is a very dynamic yet oddly static character. He's an autodidact, picking up material fast, raiding Uncle Jonathan's magic library, so that his uncle has to take his more serious and dangerous books and put them under lock and key. However, he's socially weak, and can't handle unexpected situations very well. For example, in The Figure in the Shadows, when Woody, a bully, stole his Sherlock Holmes hat, he complained and cried for a while. He couldn't find a way to steal the hat back, because he was so weak, and didn't have many skills to protect himself. He doesn't have the ability to fight back and go and take his hat from Woody. Lewis is also a very irresponsible and careless character. He doesn't know what he is getting himself into when he performs his act of necromancy after reading Uncle Jonathan's books. He ended up facing an extremely tiring adventure, and almost dies.
In The Letter, the Witch, and the Ring, Rose Rita becomes the main character. Lewis is planning to go to camp, so he can learn to be like other boys, and Rose Rita thinks she'll have nothing else to do other than spend her summer with Mrs. Zimmermann, and the fact that Lewis will be learning to do things like swim, and start fires in the dark, causes her a slight depression.
In The Figure and the Shadows, amulet magic takes over the way Lewis acts, but in The Letter, the Witch and the Ring, an old enemy of Mrs. Zimmermann happens to poison her with an enchanted memento, which causes Mrs. Zimmermann great physical suffering. Although Rose Rita is resourceful in times of danger (in fact, in "The Figure in the Shadows" she saves the day by rushing to the edge of a well, with an enchanted piece of chalk) this mission puts a lot of pressure on her, because Mrs. Zimmermann's life is in danger.
Rose Rita's mom tries to convince her that summer could still be fun without Lewis by her side and she was right, because Mrs. Zimmermann invites Rose Rita to go on a trip after receiving a strange letter. A few days before they left, the latter confessed that she had recently been deprived of one of her powers to animate an umbrella. The new one, given to her by Uncle Jonathan, is ineffective. " … well, I'm afraid I'm back in the bush leagues. I can't do anything."
Mrs. Zimmermann received a letter from her cousin Oley before planning the trip. The original reason for the trip was to go to the farm and have her sign a few papers, but there were more things left in the letter that caught Mrs. Zimmermann off guard. Oley also discussed a "magic ring", which she downplays. She says she always knew that he was a little out of his mind, but she still decided to go see what all this "mumbo-jumbo" was about.
This letter tricked Mrs. Zimmermann and Rose Rita. "What a weird letter!…I'm sorry to disappoint you about the magic ring, but Oley was right when he said he was a little funny in the head… So I'm going up there to have a look at the farm and sign a few papers" (14-17). Mrs. Zimmermann and Rose Rita decide to go up to the farm shortly after receiving the letter. After arriving, Mrs. Zimmermann gets a strange deadly disease and loses all her energy. Thank god she had Rose Rita!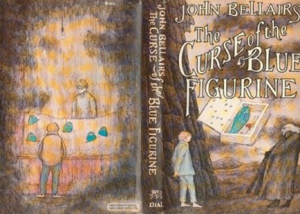 Rose Rita's toughness helped her throughout the book and Mrs. Zimmermann's life is thereby saved. She was Mrs. Zimmermann's companion for safety. Even though Rose Rita faced a lot of fearsome tasks in order to save Mrs. Zimmermann, she never gave up. Without Rose Rita in this book, Mrs. Zimmermann would have died. Rose Rita drove Mrs. Zimmermann to the hospital even though she'd never been behind the wheel. She was brave, tough, and never gave up. "Mrs. Zimmermann spent the next three days in the hospital at Ironwood"(71).
Good magic can cause either a positive effect or no effect on something or someone, while bad magic can hurt someone physically and mentally. Normally, bad magic goes against natural law and what is meant to happen. Rose Rita and Mrs. Zimmermann were meant to have an enjoyable trip into the Upper Peninsula of Michigan. Gert Bigger, the evildoer, changed all that. The person starting bad magic is normally trying to gain something, hurting others in the process, or directly. The ring magic is an example of bad magic. Mrs. Zimmermann was controlled by Bigger, physically and mentally. This enemy intentionally meant to hurt Mrs. Zimmermann and is an evil witch.
John Bellairs may be considered an obscure writer, but his creativity and writing style is not-to-miss. His humorous and mysterious style brightens up the plot of his books, and there is so much to learn besides excellent vocabulary, and examples of figurative language: you learn about the black arts, which I sincerely doubt you know much about; you will also encounter John L. Stoddard, Dr. John Dee, and other fascinating characters from history. The magical traditions i that you collect while reading Bellairs books is not only interesting, but absorbing. And once you finish reading the Lewis Barnavelt Series, there is so much more to wonder about. John Bellairs' books are highly recommended, and anyone who glimpses a row of his title should definitely pick them up and dive into the … World of Bellairs.